Borrisokane Community College School Notes
Open Night
We held our Open Night on Tues 15th.  If you were unable to attend on the night all information is on our website and if you have any queries please contact the school on 067-27268.  Enrolment forms can be dropped to the school office or posted to the school.
Geography Week
This week we celebrated Geography in Borrisokane Community College. 1st Years completed projects that are now on display across the school. 2nd and 3rd year students were creating slogans around the theme of 'The significance of Geography in our lives'.  Both groups also took part in a geography version of 'Who Wants to be a Millionaire'.
TY's presented their natural disaster projects, made some TikToks and enjoyed geography themed activities.
A great week of participation was had by all and well done to everyone who participated.
Stand Up Week
Belong To's Stand Up Awareness Week took place this week November 14th -18th. This is a time for schools to take a stand against homophobic, biphobic and transphobic bullying. This week Borrisokane CC had the opportunity to take steps to make spaces safe and supportive for LGBTQ+ young people. Our aim is to promote a supportive environment to our LGBTI+ School Community and together we can create spaces where LGBTQ+ young people feel safe, equal, and valued.
We organised many activities throughout the week to raise awareness. We had a rainbow bake off where students had the opportunity to show off their baking skills. Students also created fantastic posters and poems, and these were displayed in our school. On Friday, staff and students wore colour to represent their year so the whole school made up the LGBTI+ rainbow flag. Well done to all involved and many thanks to students and staff for making a huge effort this week.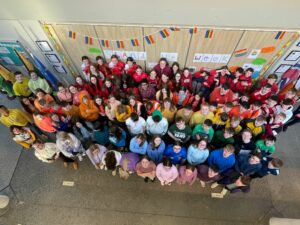 Borrisokane Community College students took part in a Colour Day to mark the end of Stand Up week showing support for the LGBTi Community.
Think Languages Workshop
On Thurs all TY students of French and German in Borrisokane Community College took part in #Thinklanguages. We learned the value of studying a language in the opening ceremony with Cillian Sunderman and other Irish people who have enriched their lives through foreign language skills. We took part in a number of workshops for example Arabic and Belly Dancing. Our canteen cooked a variety of foods from other countries for example croissants. German students did a Kaffee and Kuchen workshop while French students were doing a French Cuisine workshop. We look forward to our language survey results and our word cloud made of languages in our school community.
By Fiachradh Ahearne-Woods and Hazel Mitchell
One Good School Peer Education
As part of our Action Plan with Jigsaw's One Good School initiative we are working collaboratively to develop a shared responsibility across the whole school community to support the mental health and wellbeing of young people. Our TY students completed their first Peer education training session on Wednesday at Archerstown Thurles. Session 1 introduced our students to the workshops they will deliver to their younger peers as they endeavour to promote and support mental health and wellbeing.
Senior Hurling
On Wednesday last our Senior Hurlers had a fantastic last gasp win over Presentation Secondary School Ballingarry in our final group game. This was a very important game as the winners qualified for the last 16 of the Munster Championship. It was an extremely close game with the sides level at half time on a scoreline of 2-2 to 8 points with Cian Moyles and Adrain Dockery dominant at midfield for Borrisokane. However, Ballingarry got on top for periods of the second half and we found ourselves two points behind leading into the final moments of the game only for two late goals from the sticks of Eoin Carroll and Sean McGrath ensuring victory and progression to the knockout stages. Well done to all involved on a hard-earned win over last year's Munster Finalists.
Junior Camogie
Junior B camogie played against Abbeyfeale in the first round of the championship last Wednesday. The team were defeated in the end but showed great character and determination throughout the game. The team was captained by Aoibhe McGrath who showed excellent leadership and skill from start to finish.  We look forward to playing our next match coming up soon!
Senior Camogie
Hard luck to our Senior Camogie team who travelled to Mallow this week for a game against Bandon. It was a tough game and unfortunately our girls didn't come out on top.
5A 'World Cup Tournament'
Our 5A students organised a mini world cup tournament  for 1A as part of their General Education Task.  Well done to all for organising and running this tournament and to team Ireland for winning the tournament on penalties.
Art Trip
Our 5th and 6th year Art students enjoyed a visit to the National Museum and Art Gallery in Dublin this week. It was a great opportunity to visit and see all the exhibitions.
'Gross Germs'
Some 2nd year students carried out a 'gross germ' workshop in UL this week.  In the workshop they learned how to make their own sanitizer.  This was part of Science Week activities organised by UL.
Tráth na gCeist
Thóg lucht na hIdirbhliana páirt i gComórtas Tráth na gCeist Conradh na Gaeilge ar an Aoine 18 Samhain. Bhí maidin álainn acu, agus an bua le Georgia Darcy, Amy Sayers agus Eimear Ryan. Is beatha teanga í á labhairt.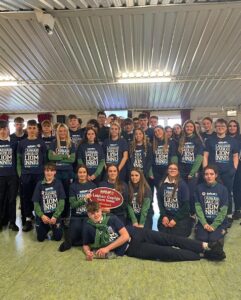 Borrisokane Community College Transition Year students took part in a wide range of activities during Gaeilge 24.
U16 Girls Basketball
Last Friday, our under 16 girls basketball team contested their Midlands quarter final against Moyne CS, in Longford, which on paper was to be their toughest match to date.
The girls started the game extremely well, matching their opponent's basket for basket in the first quarter. The middle of the game the experience of Moyne was evident, and they began to take control taking a 9-point lead going into the final quarter.
An early 3-pointer from Silvia Prieto in the fourth inspired the girls and they drew level with one minute to go in the game, with points from Aoibheann Haugh, Nuria Fernandez, and Eimear Heenan.
Drama met the end of the game as Moyne thought they won it in the dying moments, but their basket was chalked off for being after the buzzer.
The tie score meant 3 minutes of over time was needed which again ended with a tied score of 23-23. In second over time our girls team spirit was seen with group huddles on the court, and a roar of B-C-C from the team on the bench. With seconds remaining in second overtime and the score 25-25 it appeared a third overtime was on the way, but Moyne scored with 10 seconds to go, and winning by a score of 27-25.
Though disappointed by the lost, the teams improvement over the season was clear, and our school has a bright basketball future with this team. Our u16 and u19 girls will now enter the Midlands plate competition and from their progress this season, have an amazing chance of bringing a title to our school. Congratulations girls on a great campaign and best of luck in the plate competition.