Through School Self Evaluation we continuously strive to improve the educational experience of our students. Our three chosen areas of focus are Literacy, Numeracy and Teaching & Learning. The Community documents below give an overview of the various methodologies and programmes being introduced over the next 3 years to achieve improvements in these areas. The diagram below visually summarises our SSE programme and is displayed in all classrooms.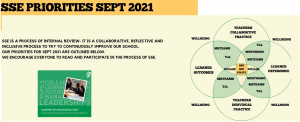 School Improvement Plan for the Community-Click Here
School Development Planning Newsletter December 2021 – Click Here.