Borrisokane Community College School Notes
Climate Nature Summit
Our TY Sustainability Class, 2C and 3B classes enjoyed a variety of sessions this week that were available for the Climate and Nature Summit.  Some very spirited walking debates took place.
Seanad Na nÓg
Thanks to our 6th year student Kaitlyn who was in Leinster house this week as part of Seanad na nÓg to celebrate 100 years of Seanad Eireann.  Kaitlyn represented Tipperary and the country with her fellow delegates.
FAI PDP1
Congratulations to some of our TYs who completed the FAI PDP1 training this week.  After completing training they organised a coaching session for a group of First Years.  Great work was put in by our new coaches.  Thanks to Tracey Gleeson Development Officer for giving her time and expertise to the group.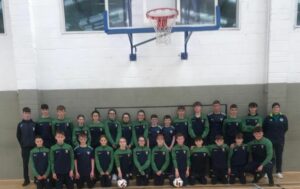 Borrisokane Community College Transition Year and first year students who took part in a FAI Coaching Course.
Science Week
We had a very busy week for Science week 2022.  Students from all levels were involved in activities.  5th Years received a very informative biomedical engineering talk from Associative Professor William Brennan from the University of Galway, 2nd Year students participated in a table quiz, 1st year students designed posters, TY students went to ABP factory as part of research on the beef industry and 6th year students got involved in study skills promotion. Thanks to all who were involved.
Student Council
Our student council members attended a consultation process meeting for the development of the TETB Statement of Strategy 2023-2027.  It was facilitated by TETB to get student voice for its development. Thanks to the Council members and Ms. Kyne for being involved.
U15 Hurlers
Our U15 hurling team played a blitz in Thurles on Tuesday. A great effort was put in by the team on the day.
Senior Hurlers
Hard luck to our Senior Hurlers who had a tough game against Scariff on Mon.  Preparations are underway for the next game against Ballingarry.
Team Hope Shoebox Appeal
Thanks to everyone who contributed to this appeal over the last few weeks and we know this will make a difference to those in need this Christmas.
Junior A Camogie
Well done to our Junior A Camogie Team who had a great win against Tulla this week and preparations are underway for the next game against Doon over the next few weeks.
Soar Workshop
5th Year students enjoyed their workshop this week.  Students had the opportunity to spend some time with their year group and engage in various group activities throughout the session.
Active School Flag Launch Event
The ASF team launched their Dodgeball Competition this well.  Well done to all who have qualified for the finals on Mon.
Angus Beef Competition
As part of Science Week, our Transition Year Students Cathal England, James Morris, Ronan Dockery and Liam O'Dwyer visited the ABP meat plant in Nenagh where they met with Don O'Brien who gave them a guided tour of the site and a very informative interview, the students will now use this information as part of their research into their project for the Irish Certified Angus Beef Schools competition, thanks to all the staff at the ABP plant for all their help.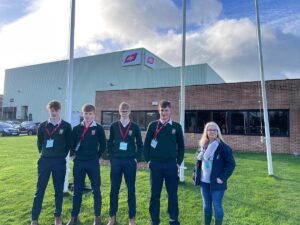 Borrisokane Community College Transition Year students and their teacher visit ABP in Nenagh as part of the Irish Certified Angus Beef Schools competition. L to R: James Morris, Cathal England, Ronan Dockery, Liam O'Dwyer, Ms Jacqueline Hayes Science Teacher.