Borrisokane Community College is involved in Erasmus+ Projects since September 2016.  These projects are funded by the European Union and provide opportunities for students and teachers from different countries to become involved in an educational project.  From 2016 to 2018 our partner schools were from Germany, Poland, Norway and Spain.  Groups of teachers and students visited each of the countries involved in the project and Borrisokane Community College hosted students and teachers from all schools involved in January 2018.
Full details of this project is available at the following link: Literary Heroes
Borrisokane Community College is involved in a new Erasmus+ Project which commenced in September 2018 and will run for two years.  The countries involved in this project are Germany, Norway, Spain, Lithuania and Ireland.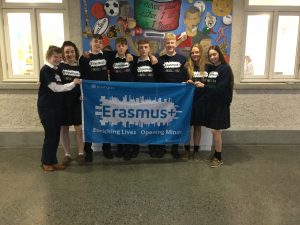 Erasmus+ Week September 2018.
Erasmus+ Week September 2019.
We have launched our website as part of the Erasmus+ schools week.
Please click on the link below to access the Erasmus+ Website for Project 2018-2020.
Ireland hosted a visit from partner schools in 2018. The following link brings you to a report on the visit from a local Lithuanian press.   Lithuanian Report on Irish Visit.