Awards Ceremony Borrisokane Community College 2019
Borrisokane Community College Awards Ceremony was opened by Head Girl Ellen Quigley. Ellen encouraged participation by all in activities and being involved throughout your school life.
Principal Matthew Carr then welcomed guest speaker Brendan Cummins and Garda Representatives Sgt. Carol O'Leary and Garda Maureen Finnerty to Borrisokane Community College.
Brendan Cummins spoke to a captive audience and the students and staff really appreciated his words of wisdom. He mentioned his mentor and former Tipperary manager Eamon O'Shea and his sports psychologist Declan Coyle both of whom have spoken in Borrisokane Community College in the past.
Brendan wanted to highlight three main things. Firstly he spoke about the important of building resilience. We often think that resilience is about being able to withstand or avoid hardship but Brendan reminded us that in life you sometimes can't avoid hardship or heartache but we must learn how to recover from difficulties in life. We must set small attainable targets regularly that we can achieve. When we achieve these we will feel we've accomplished something and get confidence from it.
Secondly Brendan spoke about perspective in life. He spoke emotionally about how the struggles and courage of a terminally ill boy called Joe gave him perspective. The boy who was blind was not afraid of the dark. Even to this day after the little boys death Brendan still gets inspiration and courage from Joe. In life when we feel we are in a hole we must have perspective. We should think of those who have overcome difficulty and be inspired by them.
Finally Brendan spoke about having fun and enjoying what we do. The importance of being present living in the moment. Stop and take notice of where you are and what's around you. In our busy fast lives we forget to do this and things pass us by.
Brendan finished by reading a passage from Theodore Roosevelt's speech The Man in the Arena. He repeated the line to students "if he fails, at least fails while daring greatly, so that his place shall never be with those cold and timid souls who neither know victory nor defeat." 
Sergeant Carol O'Leary spoke to the students before presenting the Garda National Youth Awards. She spoke about the importance of being involved in other activities not just in sport. The Garda Youth awards recognises the involvement of young people in communities and she encouraged all young people to get involved and give back to communities. Sergeant O'Leary then presented the National Garda Youth Awards to Julie Reddan and Ashling Rafferty.
Thanks to all who were involved in our Awards Ceremony and we wish all our students who are involved in various activities and competitions over the summer the best of luck.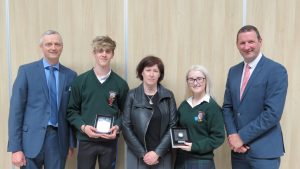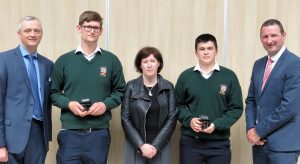 Head Boy and Head Girl                                                        LCVP and LCA Awards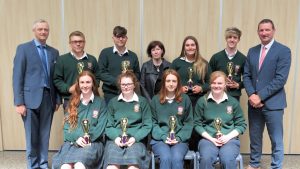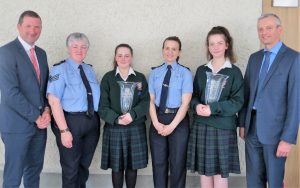 Music Awards                                                                          National Garda Youth Awards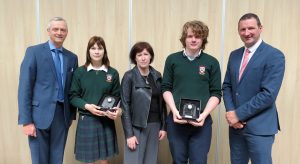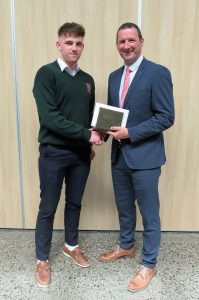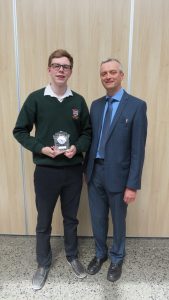 Personal Achievement Awards                  Presentation to Brendan Cummins     Principals Award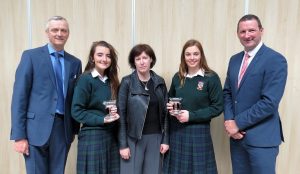 Sports Awards 2019                                                                                         Staff Awards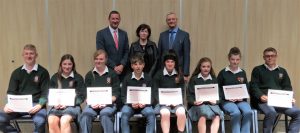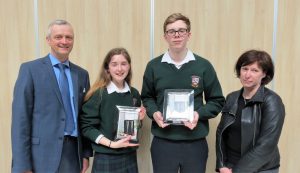 Students Council                                                                           Students of the Year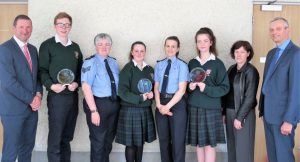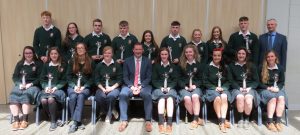 Tipperary Garda Youth Awards                                      Academic Awards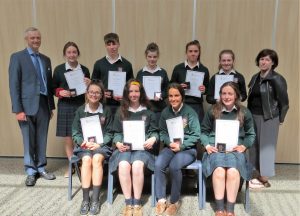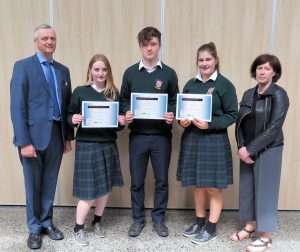 Gaisce Awards                                                                               French Scholarship Winners
Student Achievements honoured at Awards Ceremony 2017
The guest speaker for the Awards ceremony this year in Borrisokane Community College was motivational speaker and former manager of the Tipperary hurling team, Mr Liam Sheedy. He spoke about the love he has for his job with the Bank of Ireland and participating on the Sunday Game, RTE. He advised students to appreciate that life is for living. Everyone has one shot at life and how much we want to achieve is in our own hands. He identified that Irish people can often allow themselves to carry baggage from the past. He advised that one should learn from the past but not live in it. He spoke of the challenges of life and that no-one has an easy journey.
He said everyone craves success and results. If a person expects to achieve results they have not managed to achieve to date they have to work hard to get them. He recommended that one should always give 100% and then due to your reputation for hard work and perseverance will always be in demand. Mr Sheedy has crossed paths with many successful business and sports people. They would often agree that in order to achieve success one must believe in themselves and their strengths.
He told students that spending time enjoying life and playing sport outdoors results in success. He wished all the students facing exams over the next few weeks all the best and wished them well in their future endeavours. His speech was thoroughly enjoyed and appreciated by all and an extremely successful awards ceremony then took place. Students were awarded for their hard work and commitment in a range of sports, extra-curricular activities and academic subjects. Medals were presented to four camogie teams for wins in Munster and All Ireland competitions. The Student of the Year Awards of 2017 went to Darragh Buckley and Rebecca Mulqueen.