Borrisokane Community College School Notes
TY Future Leaders Trip to Croke Park
On Tuesday last our TY Future Leader class organised a trip to Croke Park for the Skyline and Stadium tour. As part of Events Month our group of Future Leaders are organising a host of mini events throughout April and one of these was to attend the holy grail of GAA that is Croke Park. Our students had a fantastic day out as they got to go on the skyline tour around Croke Park and see the views of Dublin City, they got to enter the main dressing rooms used on All-Ireland final day, got to run out under the tunnel and finally walk up the steps for the trophy presentation. It was a great experience for those involved and very well organised and run by our TY Future Leader class, well done to all involved.
Fiserv TY Coding Workshop
Thanks to Brian Fogarty and Conor Bowe from Fiserv who delivered an introduction to coding workshop on Monday to all our TY students.
Ty Trip to Kairos
On Thursday April 20th, 4A enjoyed a day at Kairos Recording studios in Maynooth where they made their own TV programme. Students took on various roles, producing and directing the show and also operating the cameras, sound, vision mixer and graphics. There was great teamwork shown as ideas were generated and a script was planned. All students agreed that it was a great experience and they got great insights into the TV production process.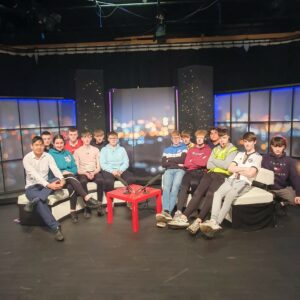 Borrisokane Community College Transition Year Students on a TV Programme making course in Kairos Studios Maynooth.
Gaisce Adventure Journey
Our Gaisce students completed their 25km adventure across the Burren on Thursday and Friday.  We were very fortunate with the weather and well done to all the participants on their way to completing their Bronze and Silver Awards.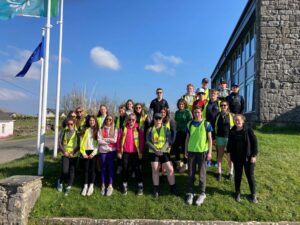 Borrisokane Community College Transition Year students who travelled to the Burren, Co. Clare for their Gaisce Adventure Journey taking part in a 25km walk over two days.
One Good School
Our One Good School Peer Educators delivered a presentation by Jigsaw this week to 1st year students.  This presentation outlines some strategies to support mental health through changing times.
2nd Year Colour Run
Our 2nd years had a great afternoon on Friday participating in a Colour Run as part of their CBA for CSPE. They gained essential skills in organising and planning the event.
Junior Cert Musical Practicals
Well done to our JC Music students who completed their Music Practicals on Thursday.
1st Year Parent Subject Option Information Meeting
If you were unable to attend this meeting the presentation is now available to view on our website.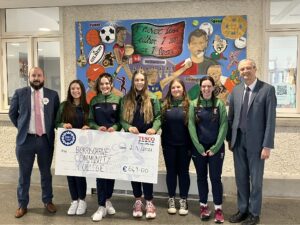 Presentation: Thank You to Tesco Nenagh for presenting a cheque of €649 to Borrisokane Community College following their Community Collection of Blue Tokens at the Nenagh Store.