Borrisokane Community School Notes
'All Shook Up'
Rehearsals are well underway for our upcoming TY Show.  All Shook Up takes place in 4 weeks time, March 29th & 30th in our Sports Hall.  Please keep an eye on social media for ticket sales.
Tipperary ETB Talent Show
Well done to our Trad Group and 6th Years Buhlebethu Afriye and Sinethemba Masina who participated in the ETB Talent Show in the Dome in Thurles on Thurs 02nd.  It was a fantastic display of talent and well done to all.
Tipperary ETB Chess Competition
Borrisokane Community College had twelve students participating in the ETB Chess Competition. Well done to Tyler Hogan Stone and Emmanuel Masina who came out winners on the night.  There were great skills on display and we look forward to further competitions.  Thanks to Coláiste Mhuire Thurles for organising.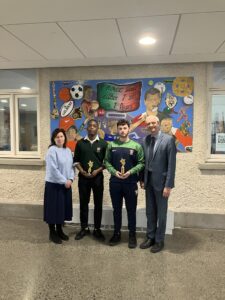 Borrisokane Community College 5th year students who were winners in the Tipperary ETB Chess competition. L to R: Ms Paula Molloy Deputy Principal, Emmanuel Masina, Tyler Hogan Stone, Mr. Matthew Carr Principal.
Borrisokane Community College Badminton
We had some excellent performances from our badminton club this week.  Borrisokane Community College played against nine other schools in the Boys Tipperary Badminton Championships.  Our U16 boys won their age category and now head to the Munster Schools Championship on the 10th March in the University of Limerick.
Also joining the lads are our U14 girls who won out in their games during the week, two Borrisokane teams ended up in the final of these competitions.
Best of luck to all in the finals representing Tipperary.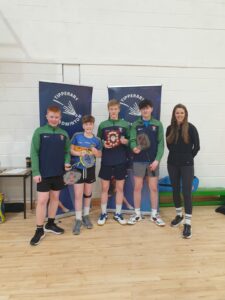 Borrisokane Community College U16 Boys who won the Tipperary Badminton Competition.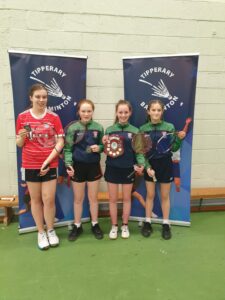 Borrisokane Community College U14 Girls who won the Tipperary Badminton Competition.
Erasmus Trip to Austria
At the end of January eight Transition Year students and two teachers from Borrisokane Community College went on a trip to Austria funded by the Erasmus+ program. Erasmus+ is a European Union funded program. This trip was part of the project Include Me where the school has partnered with  schools in Spain, Austria and Germany. The goal of this project is for students to write a story about themselves and share with their partner schools. During the week, the students took part in. many activities with other schools. The other partnering countries that were with them on their trip were Spain and Germany. The highlight of their trip was when they hiked up the mountain and then went sledging down. The town they went to was Otzal. They had a great experience and learned lots of new things. They made lots of new friends and really enjoyed the trip.
U17 Hurling
Hard luck to our U17 hurlers who lost out in the county Semi-final against Borrisoleigh. A massive effort was put in with this bunch of players over the past few months and it was a credit to them the way they worked together.  Best of luck to Borrisoleigh in the final.
1st Year Music Trip to Cork Pops
Our 1st years travelled to Cork City Hall this week and were entertained by Cork Pops Orchestra.  It was a wonderful opportunity to listen to the orchestra.
1st Years Boys Soccer
Hard luck to our First Year Boys who lost out to a stronger Waterford side this week.  Well done on the great effort put in all season and we are looking forward to next season.
Senior Ag Science Trip to Cork
Agricultural science students form TY and 5th year experiencing education outside of the classroom by taking part in a trip to Glen South Farm in Banteer Co.Cork, where there is an example of a beef unit which holds 250 cattle and uses an automatic feeder and other technology to maximise output while staying sustainable and protecting the environment. Thanks to Aine Sweeney for a very informative tour of the facilities.
Girls Senior Soccer
Borrisokane CC Senior Soccer squad had a great win this week.  The girls ran out strong winners on the day winning on a scoreline 8-0.  All their hard work is paying off.
Boys Basketball
Hard luck to our 1st year boys basketball team who lost a very close game against Killina this week on a scoreline 35-33.
Our 2nd year boys came out on top again beating Killina 35-30.  This makes it four wins out of four so they have topped the group and have qualified for the Quarter finals of the Midland League.
Well done to all the lads.
Girls Basketball
Well done to the 1st and 2nd year girls basketball teams who both came out with wins against Kilcormac on Fri.  Both teams now progress to the Quarter Finals of the Midland League.  Best of luck to the girls.
RCSI Mini Med Programmes
TY students got the opportunity this week to participate in the RCSI Mini med programmes. Students experienced what is involved in these medical professions.
Laura Lynn Fundraiser
Well done to our 3rd year students Isabel, Sekinat, Louise, Elaine and Oisin who organised a raffle in aid of the LauraLynn Foundation.  The total amount raised was €617.