Borrisokane Community College has been involved in the Erasmus+ program from 2016. Erasmus+ is the EU's programme to support education, training, youth, and sport in Europe. Its budget of €14.7 billion provides opportunities for over 4 million Europeans to study, train, and gain experience abroad. Students go on four mobility exchanges, one to each partner country, to attend workshops and gain skills needed for the project. Those who travel fed back to students at home, passing on the knowledge and new skills they have learned. They also get to experience the culture of another European country.
Our first project, in 2016, was led by a school in Germany and included schools in Norway, Poland and Spain. It was called Literary Hereos and students from each country wrote a story about one of their national literary heroes and illustrated it. All stories were eventually published together in a book. Our contribution was Cú Chulainn.
In 2018 we began work on a project called Future Erasmus- Carrying European Values into the future. This project looked at promoting European values through students getting together to write a Utopian and Dystopian short story, encompassing technology and climate themes. Unfortunately, this project had to be extended due to Covid 19 and we now hope to complete the remaining German mobility virtually. When complete, we will have produced an illustrated book and an audio book featuring all stories. This project was also led by Germany and our partner schools were in Norway Spain and Lithuania.
In 2020 we decided to apply to lead our own project to follow on from Future Erasmus and we were delighted to be granted funding. Our project Europe Evolving – Past, Present and Future, looks at key moments in each country's histories and compares them, along with examining our actions in the present and how they affect our future. Together we hope to come up with a shared vision for the future that is in line with the UN Sustainable Development Goals. There is also a strong emphasis on inclusion in this project. Our partner countries are Germany, Spain, Norway and Lithuania. We officially launched our project on Friday 9th October by planting a native Irish Scots Pine to be joined by native tree species from partner countries to combat the carbon footprint of the project.
Students are currently working on both Future Erasmus and Europe Evolving simultaneously. Activities include creating a project website, designing a visual glossary, coming up with a project logo and engaging with partner students on eTwinning. This year all mobilities will be held virtually, combining eTwinning, Teams or Zoom with local educational excursions. Both Spain and Norway will host mobilities this year. Erasmus+ is led currently by Ms. Elaine Linehan and Ms. Ramona Morgan with the support of a committee of teachers and a project group of twenty-four students.
When we are finish in 2022, we hope to have an exhibition in Borrisokane where all our findings and outputs from Europe Evolving can be displayed. All participating students and teachers from each country will be able to attend, as well as members of the local community.
Kevin Troy, Latesha Gaynor and Ms. Ramona Morgan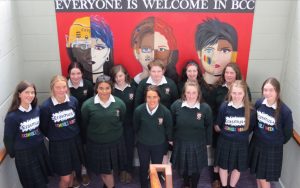 Borrisokane Community College Students celebrating Erasmus Schools week 2019

European students visit Borrisokane Community College Literary Heroes, 2018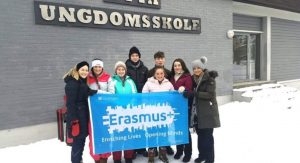 Future Erasmus Borrisokane Community College students in Norway during January 2020.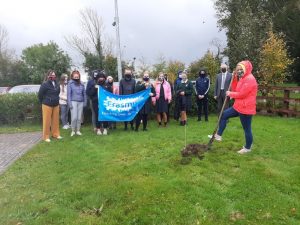 Tree Planting Ceremony at Borrisokane Community College to mark the commencement of the Erasmus Project – Evolving Europe.