Borrisokane Community College School Notes
 Club na nÓg
Ar an Déardaoin seo caite bhuail daltaí sa chéad bhliain, sa dara bhliain agus san Idirbhliain an bhóthair go moch ar maidin. Chuaigh siad chuig Inis Óirr don lá. Bhí an t-ádh leo leis an aimsir agus fuair siad rothar ar cíos. D'fhan an ghrian ag scoilteadh na  gcloch agus d'ith na daltaí lón cois trá. Ar ndóigh chonaic siad na radharcanna ón gcaisleán agus thug siad cuiart ar Thobar Éanna. Deirtear go raibh cónaí ar Naomh Éanna i gclochán coirceogach in aice láimhe agus is mór an t-ómós atá ag na hoileánaigh don tobar seo. De réir an tseanchais, is deachomhair é má éiríonn leat eascann a fheiceáil sa tobar.
Tá timpeall 300 duine ina gcónaí ar an oileán faoi láthair, agus tá sé suite i nGaeltacht Chonnacht.  Baineann tábhacht mhór leis an turasóireacht ar an oileán. Chomh maith le sin, tagann go leor daoine ann agus iad ag iarraidh a nGaeilge a fheabhsú, bhí sé iontach do na daltaí an ghaeilge a chloisteáil i measc an phobail.
Tá Club na nÓg críochnaithe don bhliain anois, is grúpa é a dhéanann rudaí deasa trí ghaeilge atá go maith do do fholláine taobh amuigh den seomra ranga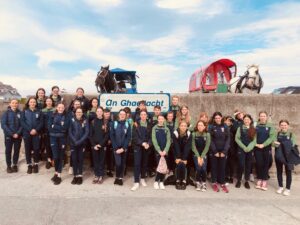 Dillon Quirke Foundation Fundraiser
We are running a Fundraising Event for the Dillon Quirke Foundation on Tues 23rd May. We will be running this event from 4:30.
At this event we will officially open our Ball Wall, run an Art Exhibition where you can come in, view and purchase art pieces created by our students and teachers.
You can also try out our Skills Stations where you can test out your hurling and camogie skills.
We are having a hurling and camogie game where you can get to see some of our past and present students take to the field.
We are delighted to welcome many guests on the evening so please come along and support our Fundraising Event.
Please keep an eye on social media over the next few weeks where you may catch a glimpse of our special guests.
Girls Basketball
To celebrate the achievements of our girls basketball teams this year, a special match took place between our Junior and Senior teams.  After a very competitive game our junior team came out on top 32-22.  The future is bright for basketball in Borrisokane Community College.
2nd Year CSPE Trip
2nd Year CSPE students travelled to Dublin Zoo this week as part of their conservation of wildlife for their upcoming CBA.  A rainy but enjoyable day for all students.
East Munster Schools Athletics
Our boys athletics team had a great day out in Waterford this week at the East Munster schools athletics competition. The following won medals at the event.
Morgan Deasy: Gold in shot Silver in discuss (intermediate), Richard Elllis Bronze 200m (senior), Matthew Hardy Bronze 100 (senior), Carlos Estrada Silver 100m and Silver long jump (minor), Jack Tierney Silver shot (minor), Eoghan Dunne Bronze high jump (intermediate)
Further Education and Training Talk
Thanks to Emma Wing and James Heffernan who spoke to our Leaving Cert students this week about the vast range of FET and Apprenticeship options available to students and they also spoke about the progression routes open to students through FET pathways.
U15 Hurling
Well done to our U15 hurlers who won the Gerard O'Brien Tournament this week. A great work rate was displayed by the lads and we look forward to further competitions in September.
U 15 Camogie
Hard luck to our u15 camogie team who lost their final this week.  A great effort was put in by the girls but we lost to a stronger Carrick side on a scoreline of 3-8 to 1-8.
1st Year Camogie Blitz
Our 1st year camogie team travelled to Mallow this week.  Borrisokane made it to the final of this competition but yet again were beaten by a stronger Carrick team.
6A & 5A Interviews
Well done to our Leaving Cert Applied students who completed their Spanish Oral Exams on Monday English and Communication Interviews on Friday.  Best of luck in the upcoming exams.
Heads and Tails Tournament
We enjoyed yet another competitive school wide Heads and Tails tournament this week. Thanks to all students who participated.  All monies raised go to As I Am.