Borrisokane Community College School Notes
 All Shook Up
The countdown is on and we are 'All Shook Up" Join us March 29th and 30th in Borrisokane Community College Sports Hall for our annual show.  This year our Transition Year students are taking us back to the 50's for the hit musical.
More details will follow and please keep an eye on our social media pages for ticket sales.
Parents Information Meeting
On Wednesday March 1st a meeting will take place on Senior Cycle Options for parents/guardians of 3rd and Transition Year Students.  The meeting will take place online and a link will be emailed to students and parents.
Talk from Accounting Technicians Ireland
Thanks to Daniel Philips from Accounting Technicians Ireland for the very informative online talk to our 5th & 6th Year Accounting students this week. It is great to hear about all of the pathways to careers in Accounting.
JFK forensic Workshop
Our Transition Year students had a very enjoyable morning at the JFK forensic workshop. The TY students had to use analytical and critical thinking skills to explore Ballistics and Gun Shot Residue, photographic analysis, fingerprinting, autopsy and theories.   A great workshop and thanks to Alison from Forensic fun for working with our students.
1st Year Camogie
Our 1st year Camogie team travelled to Portumna Community School this week for a challenge game.  It was a great opportunity for our girls to get some game time.  Thanks to PCS for hosting us.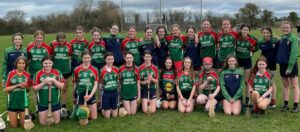 Borrisokane Community College First Year Camogie Team.
Law Programmes UL
Thanks to Johnny Connolly from the Faculty of Law at UL for a very insightful talk on the three law programmes on offer in the University of Limerick.  He offered a valuable insight into the breakdown of courses, modules studied, exemptions for professional qualifications and career areas within law.
2nd Year Boys Basketball
Our 2nd year boys faced a very physical Colaiste Naomh Cormac side and both teams were neck and neck for the entire game, it went into extra time three times. Our boys held their nerve and their skill shone through in the end with a winning three pointer from Cathal O'Brien. Well done boys.
1st Year Boys Basketball
Hard luck to our 1st Year boys who played Colaiste Naomh Cormac this week.  The gave the game everything they had but it just wasn't their day.  Next game is on the March 1st.
1st & 2nd Year Girls Basketball
Well done to our 1st Year team who won against Banagher College 18-12 and to our 2nd Year team who won against Banagher College also on a score of 26-9.  Best of luck to both teams as they progress in the competition.