Borrisokane Community College School Notes
U16 Girls Basketball
Congratulations to our under 16 girls basketball team on their Midlands Plate final victory against Athy College by a score of 42-12. The girls deserved this success due to their weekly efforts in training, attitude, and team spirit over the course of the season. The girls improved with every game and will reach even new heights next season.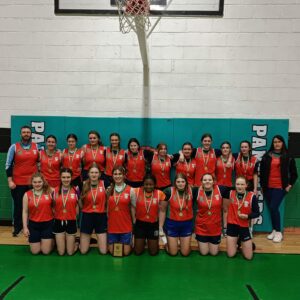 Borrisokane Community College U16 Girls Basketball team who won the Midland Plate Final over Athy College last week.
TY Future Leaders
Well done to our TY Future Leaders class who organised the Grand Final of the 1st Year quiz this week.  The TYs successfully organised this event as part of the Event Management module.
TY Bodhran Workshop
Our TY students had a fantastic workshop on Thursday where they spent the day making their own Bodhran from start to finish.
TY Fencing Coaching Workshop
A group of TY students participated in a Fencing Coaching workshop this week.  Well done to those involved and we look forward to seeing your coaching skills being tried out over the next few months.
ESB Apprenticeship
Thank you to Owen from ESB who delivered an insight talk about the current Apprenticeship recruitment.  Students benefited from a wealth of information regarding application requirements and processes to the role of an apprentice and the exciting opportunities an ESB apprenticeship offers.
Irish Naval Service
Thanks to the Irish Naval Service for their informative talk on their current recruitment.  Students benefited from a wealth of information regarding the application process, the range of specific training available and the fantastic opportunities the Irish Navy have to offer.
Boys Basketball
Hard luck to the first year boys basketball team who lost 20-12 to Mercy Kilbeggan during the week. For some of the boys this was their first game, they all played really well.
Congratulations to the second year boys basketball on a brilliant win against Mercy Kilbeggan with a score of 32-16. Excellent skills, teamwork and focus from all the players, well done.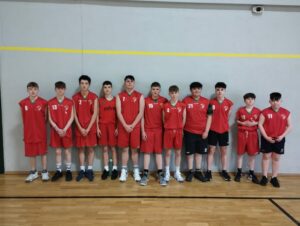 Borrisokane Community College second year boys basketball team who their first games of the season over Mercy College Kilbeggan.
Club na nÓg
Club nan Óg has returned for this term with students working on an Art Project where they created a layered Irish landscape with traditional Irish symbols.
Sustainability Promotion Committee
Its that time of year again where our Sustainability Promotion Committee are asking students to raid the closets for our annual 'Clothes Swop'.  The committee will be accepting clothes after the February mid-term break.