Borrisokane Community College School Notes
TY Driving School
Our TYs travelled to Pallas Driving School on Mon and Tues this week. This driving course was specifically aimed at students.  They learned about safety rules, tried to complete simple tasks wearing 'Drunk Buster Beer Goggles'. Then they learned about vehicle familiarisation, car controls, safety checks, driver responsibilities and then got the opportunity to drive.
A very informative and bust day was had by all.
6th Year Ag Science Trip
On Tuesday 6th Dec the leaving Certificate Agricultural Science students visited Nenagh mart and Tim Gleeson's piggery in Ballymackey. On arrival at the Mart the students were welcomed by the Mart manager Mr Michael Harty and got to walk around and observe the livestock as they arrived. Before the auctions started the students visited the canteen where they indulged in a hot breakfast. With their appetite satisfied it was time to enter the auction area. Here they observed how the animals were weighed before entering the ring and bidding progressed. At 12.30 the students left the mart and headed for Ballymackey. On arrival at Gleeson's piggery the students were met by the owner Timmy Gleeson. To ensure no contamination was brought into the site each student was given a pair of disposable gloves to wear and were asked to dip their footwear in a disinfectant bath. After this the students enjoyed a very comprehensive tour of the site with a detailed explanation of the pigs journey from birth to finishing. A most enjoyable day was had by all.
LCA Breakfast
Our 5A HCT class hosted a coffee morning for teachers.  They baked some delicious savoury and sweet treats for all.  Well done on all the hard work that was put in.
One Good School Peer Educators.
Our OGS Peer Educators attended their second training day in Archerstown this week.  The have made excellent progress from their first session.  This sessions training concentrated on the '5 a day for mental health' strategy along with developing skills to teach the 'Talk Tool' to their younger peers.  Well done to all.
Girls Badminton
Our girls put in excellent performances in the Tipperary Badminton League this week. Borrisokane entered two u14 teams and u16 teams.  Well done to both U14 teams coming 1st and 2nd in their groups.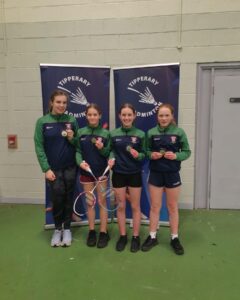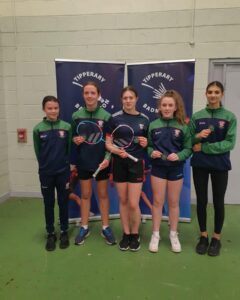 Borrisokane Community College medal winners at the recent Badminton Competition.
Careers Trip
Some of our 5th and 6th year students visited Archerstown ETB Apprenticeship Training College, Thurles today. Damien Walsh guided us through the many apprenticeships including: cybersecurity, aircraft mechanics, farriery and the well-known craft apprenticeships such as plumbing and electrician. We got to explore the state of the art facility at Archerstown and got a demonstration of some of the welding equipment. Apprenticeships are a great way to earn as you learn and after four years, you are fully qualified to work in Ireland and abroad
Girls Soccer
On Monday Borrisokane CC Senior Girls soccer had a game against St. Ailbes.  It was the first time for the girls to play a game together this season. Great goals were scored by Darra Bourke and Hollie Hickey.
It was back to Tipperary town again on Thursday where the junior girls' soccer team had their first outing of season. 47 girls travelled for the occasion. Borrisokane played two matches, both were against St. Anne's. The Borrisokane girls did very well in the first match but unfortunately lost 3-0.
The second match started with a new burst of hope, just before half time Shauna Quinn scored the first goal. At the start of the second half things turned for the worst where St. Anne's managed to score three goals. The Borrisokane girls responded with two goals one from Sophie and one from Gemma. The of match result was 4-3. The team are looking forward to be back on the field after the Christmas holidays.
Short Story Competition
Congratulations to Thanatcha Phanpitak from 1B, who wrote the winning entry for the Halloween Horror Short Story Competition this year.  Runners up prizes go to Dan Ryan Class 3D, Sophie Platt 1B and Kate Coonan 1A.
Many thanks to those of you who entered the competition, the standard of entries was very high.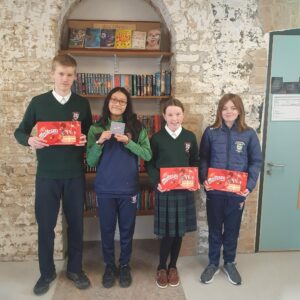 Borrisokane Community College winners of the Halloween Horror Short Story Competition.
Junior Camogie Match
Hard luck to our Junior Camogie team who headed to Ennis for a game on Friday.  Unfortunately it wasn't their day and lost on a scoreline of 5-15 to 2-5.
TY LCA Mount Lucas.
Some Transition Year and Leaving Certificate Applied students travelled to Mount Lucas Training Centre on Friday. The centre is dedicated to train, develop and upskill the competencies for both Construction machine operators and construction operatives that will enable trainees to develop a career within the Construction Industry. It was great for our students to get to view the facilities and get information about training courses and apprenticeships.