Borrisokane Community College School Notes
Borrisokane Community College Athletics
On Wednesday, April 6th the Borrisokane Community College athletics team headed to Templemore to take part in the Tipperary schools track and field competition. With field competitions starting at 11 o clock, it was not long until our first medals came rolling in. Adam Bourke finished second in both the discus and the hammer throw with Morgan Deasy finishing second in the hammer and Hannah Deasy winning her hammer competition. Morgan also went on to win his shot putt competition which was a fantastic achievement as one of the youngest athletes in his age group. In other field events we had Louisa Deasy finishing second in both her long jump and her triple jump.
On the track we had several athletes put in fantastic performances in their 100-meter sprints. Competition was very tough, but many of our athletes made it through their heats and semi-finals and placed very well in their finals. This was a fantastic achievement for our athletes as a number of them have never competed at this level before.
James Tanner put on a dominant display of middle distance running where he cruised to victory in his 1500-meter final. James was also part of the senior relay team who were placed 4th in their final.
Overall, it was a fantastic day out for all our athletes who put in fantastic performances and is a testament to their commitment to training every week all year. We are all looking forward to our next big competition later in the year!
First year Basketball
Thursday last our 1st year girls basketball team 'The Porcupines' played their Midlands Final in St. Marys Hall Portlaoise.  Despite leaving everything they had on the court they just fell short to a more experienced Naas Community College. The girls, while understandably disappointed should be extremely proud of what they have achieved throughout this competition.  From being a team of beginners to achieving great away results against much more experienced teams, to progressing all the way to the final, where even the president of Basketball Ireland commented that the future of basketball is bright in Borrisokane.  This season will make the girls much stronger and they will no doubt reach new heights next season.
Smart Ageing 2032.
Our JC Digital Skills and senior Computer Science students attended a webinar this week on 'smart Ageing 2032'.  This webinar discussed how the advances in technology and healthcare can change how elderly people live in the future.
TY Trip to 'Chicago'
On Wednesdays our TYs travelled to the Bord Gais Theatre to see the award winning show Chicago getting some tips before their upcoming show in a few weeks.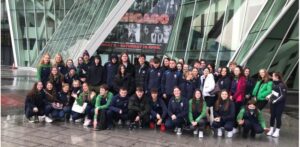 Borrisokane Community College Transition Year students on their trip to Bord Gais Theatre to see the Musical Chicago.
Poetry Competition
The winners of our Poetry Competition were: Junior: Adam Bourke, Dan Ryan, Abigail Bourne
Senior: Dylan Schweitnitz, Sinethemba Masina , Kaitlyn Kennedy.
Well done to our winners and the winning poems will be available to read on social media over the next few weeks.
'Clothes Swap'
This year as part of our awareness of sustainability we are organising a one day event a 'Clothes Swap'. We are asking our students to have a look in their wardrobes and if you have items of clothing that have never been worn, you will never wear, and in good condition to please bring them in.  For each item you bring in you will get a token which you can spend in our 'Sustainability Swap Shop' on Fri 13th May.
Transition Year Outdoor Education Trip
Transition Year students were delighted with the return of overnight trips to Outdoor Education Centres when they took part in a wide range of activities at the Eclipse Activity Centre in Kerry last week.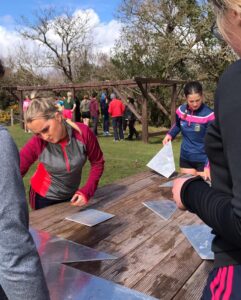 Borrisokane Community College Transition Year students taking part in group activities at the Eclipse Activity Centre in Kenmare, Co. Kerry.