Borrisokane Community College School Notes
Enrolment First Year 2022/2023
The closing date for enrolments is Thursday January 6th. All information is available on our website www.borrisokanecc.ie.
Art Competition
Well done to the winners of our Primary School Art Competition.  Thanks to everyone who entered.
The winners are:
Ruby Costello Carrig NS Birr, Clodagh Davis Cloughjordan No 1, David Flannery Kyle Park NS, Michael Gorman Terryglass NS, Amy Hackett Tommevara NS, Oliver Jacek Ardcroney NS, Tara Kelly Scoil Mhuire NS, Kate McFerran Portroe NS, Clodagh Murphy Kilruane NS, Aisling O'Meara Kilbarron NS, Hannah Pearse St. Michaels NS, Ella Ryan Kildangan NS, Julie Ryan Kildangan NS, Arvo Ward St. Michaels NS. Prizes on the way to winners.
Senior Soccer
Well done to our Senior Girls soccer team who played St. Ailbes during the week. It was a very competitive game ending on a scoreline of 2-2.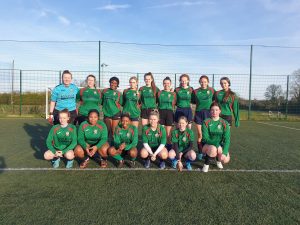 Borrisokane Community College Senior Girls Soccer team who played a 2-2 draw with St. Ailbes Tipperary town recently.
U15 Boys Soccer
Our U15 soccer squad played a match against Rockwell College on Thursday.  All 30 members of the squad got valuable game time ahead of the next round of the Munster Trophy.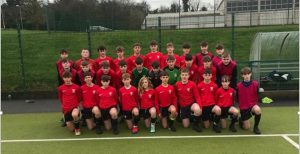 Borrisokane Community College U15 Soccer team who won their game with Rockwell College recently.
TY Trip to Pure Skills Galway
Our TYs enjoyed a great day out on Wed.  They travelled to Pure Skill in Galway where they got to try out their skills in many different sports, followed by a trip around the markets.
Novas Christmas Sleep Out
This year the Novas Christmas Sleep-Out is took place on Fri 17th. This is to help raise much needed funds to support homeless services throughout the region this Christmas.  Students were asked to give up their bed and pitch a tent in the garden, build a fort in their living room or sleep on the floor and stand in solidarity with people experiencing homelessness.
LCVP Talk
Thanks to Tullamore College Student Anthony Gorman of Anthonys' Wooden crafts for taking time out to visit our 6th Year LCVP class this week.  He gave an insight into being a young entrepreneur. He highlighted how doing a JC Business CBA lead to him setting up his own business.  This visit will form part of the students LCVP Portfolio.
6th Year Art Trip
Our 6th Year Art students visited the Hunt Museum this week. They enjoyed a historic guided tour in preparation for their art history exam.
TY Erasmus Carol Singing
There was great excitement on Thursday when the TY Erasmus class got together with their European partner schools in Norway, Germany, Lithuania and Spain for virtual carol singing.  Each school sang a Christmas Carol in their native language.
Erasmus ETwinning – 'Life From My Perspective'
5 students from the ASD center in Borrisokane Community College are participating virtually in an eTwinning project partnering with schools in Turkey, Portugal, Ukraine, Latvia, Romania, Italy, and Greece. The Project is called "Life from My Perspective and allows the students involved to reflect on how they make sense of the world and how they express themselves.  The project will last for four months, each month there will be several activities for students to complete. Already they have researched a national hero, taken pictures of living things around them, celebrated Irish products, and cooked with them, created Avatars and Word Art.  There has also been 2 teacher webinars and 1 student webinar for participants to reflect and evaluate on work completed to date.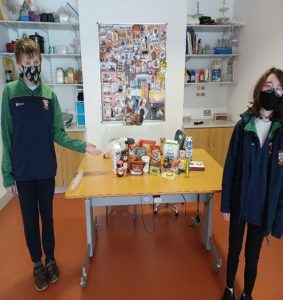 Borrisokane Community College students Callum Ryan and Katie Fahey showing their display to partners involved in the Erasmus Project.