Borrisokane Community College School Notes
Trip to Scariff
Leaving Certificate Applied students travelled to Scariff on Thurs 23rd September for their first trip of the year. They took part in a wide variety of land and water-based activities at the Derg Isle Adventure Centre. Activities included numerous team challenges, rock climbing, archery and kayaking on Lough Deg.  The weather was favourable, and all students had a great day out.
Borrisokane Community College Leaving Certificate Applied classes on a trip to Derg Isle Adventure Centre Scarriff.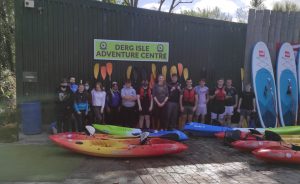 LGBTI +Awareness Training
This week our staff were trained by BelongTo as we aim to become more supportive to our LGBTI+ Community. We also had our first LGBTI+ peer support group for students.
Homework Club
Our homework club for 1st and 2nd years commenced this week.  It is a great support for students to learn and help one another.  Thanks to the teachers and students who volunteer to help out with Homework Club.
Leadership Training
Leadership training this week took place for our Transition Year Cairde volunteers who will be working with our 1st Years over the next few months.  Well done to all who participated in this training and to Ms. Walsh and Ms. Shanahan for facilitating.
5th Year Parents Information Evening
An information evening for our 5th years took place on Mon 20th. If you were unable to join us for that meeting all information is available on the News section on our website www.borrisokanecc.ie
Borrisokane Community College Erasmus+ Journey Continues
"Europe Evolving – Past Present and Future" is an Erasmus funded project that unifies 5 schools across Europe, Šėtos Gimnazija, Lithuania, Otta Ungdomsskole Norway, IES Ramón Giraldo High School in Spain, HCA-Gymnasium in Germany and from Ireland, Borrisokane Community College.   This project was inspired by a previous project with the same partners called Future Erasmus "Carrying European Values into the Future". This year the project is coordinated by Ms Morgan, Ms Linehan and Ms Heavey along with 21 TY students.
The project aims to help students evaluate the past and examine how choices they make in the present will impact their Future.  Unfortunately, last year we were unable to meet face to face and planned trips to Spain and Norway had to be replaced with virtual mobilities. Thankfully technology helped us to make connections and communicate with our partner schools. The Erasmus+ program promotes students and teachers working with other schools in Europe and sharing their culture and experiences.  Covid 19 has impacted negatively on this aspect of the project, but we hope in the year ahead that will all change.
TY Erasmus+ Students this year are excited to be participating in this project, hoping for bigger and better things they are enthusiastic and optimistic about the year ahead.  Looking cautiously forward to meeting their fellow students face to face in Germany and Lithuania. Finally reunited they will examine history through art, music and poetry. As well as focusing on the UN Sustainable Development Goals number 16, Peace Justice and Strong Institutions and number five Gender Equality.  At the end of the project, we hope our new European friends will be able to travel to Ireland to take part in an exhibition to document the work of our project for the local community.
By Kelan Ducie, Aoibheann Moore, Molly Grace, Ellen Ryan and Ms Morgan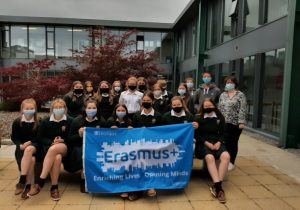 Borrisokane Community College Transition Year Erasmus groups with their teacher Ms Morgan.