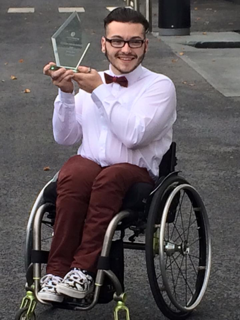 Cillian Dunne, 6th year student, was born with Spina Bifida and Hydrocephalus (meaning split spine and water on the brain). The severity and implications for Cillian and his family included ; Confinement to a wheelchair –paralysis of the lower limbs, bowel, bladder, kidney problems and orthopaedic problems including dislocated hips and scoliosis (curved spine).
Cillian has bravely experienced and survived over thirty surgeries and numerous episodes of illness and pain whilst keeping up with his studies and will complete his Leaving Certificate in 2016.
Cillian has always loved sport. The Irish Wheelchair Association Sport provided support and structures for Cillian to harness his energy, dedication, enthusiasm and excellence for Shot Putt, Javelin and Discus. His appetite to compete was insatiable. To date, Cillian has won almost 200 Gold, Silver and Bronze medals in Ireland and the UK. Aged thirteen he represented Ireland at the Celtic Cup Games in Wales where he won three gold medals and the Best Newcomer award. Aged fourteen, he represented Ireland at the International World Junior Games in Dubai and again aged fifteen in the Czech Republic where he finished fourth in the shot putt and sixth in javelin and discus.
​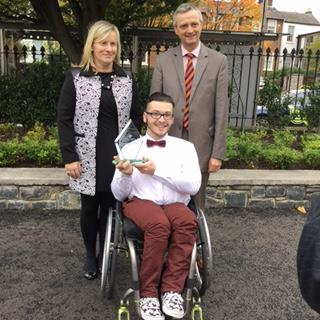 In 2011 Cillian turned to wheelchair track racing. Within months of taking up the sport he returned to the Irish squad as a track racer and in 2014 competed at the 10th International World Junior Games in London and this year in the Netherlands. He has now reached number seven in the world junior rankings. Cillian has taken part in the Limerick Run 10K for the past 4 years, improving his time from 44 to 32 minutes this year. He has competed in many local 10K races and can often be seen training on the walkway at Borrisokane Community College and the Nenagh bypass. Cillian plays Irish League wheelchair basketball with the Athlone senior team, the Shannonside Stealers where his teammates include double Paralympic gold medallist Mark Rohan. Not for the faint hearted! Cillian's dream is to someday represent Ireland at the Paralympics and he continues to train with his goal firmly set on qualifying for Tokyo in 2020.
Click here to go to UTV interview with Cillian​